Jeep Wrangler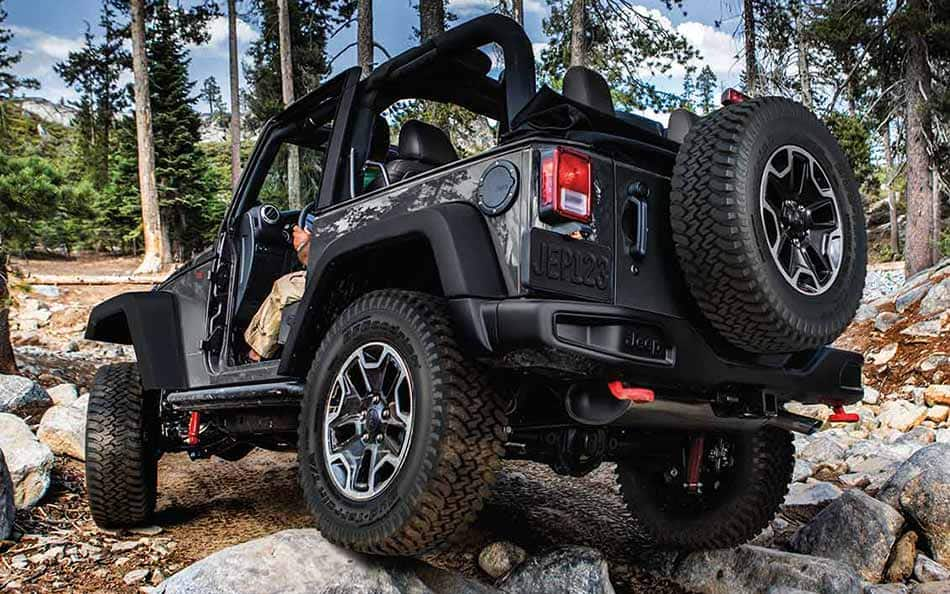 Used Jeep Wrangler at Thompson CDJR of Edgewood MD
The Jeep Wrangler emphasizes rock-crawling over highway comfort, and when it comes to hardcore trailblazing, it's rarely matched. Trim levels include the Sport, Sahara and Rubicon, as well as the four-door Unlimited. It remains the only convertible SUV with traditional four-wheel drive on the market, and it's instantly identifiable. Its singular road presence comes not from its mechanics but from its heritage as a World War II military vehicle that still colors it design and capabilities 70 years later. Competitors include the Nissan Xterra and Toyota FJ Cruiser.
Browse Our Wrangler Inventory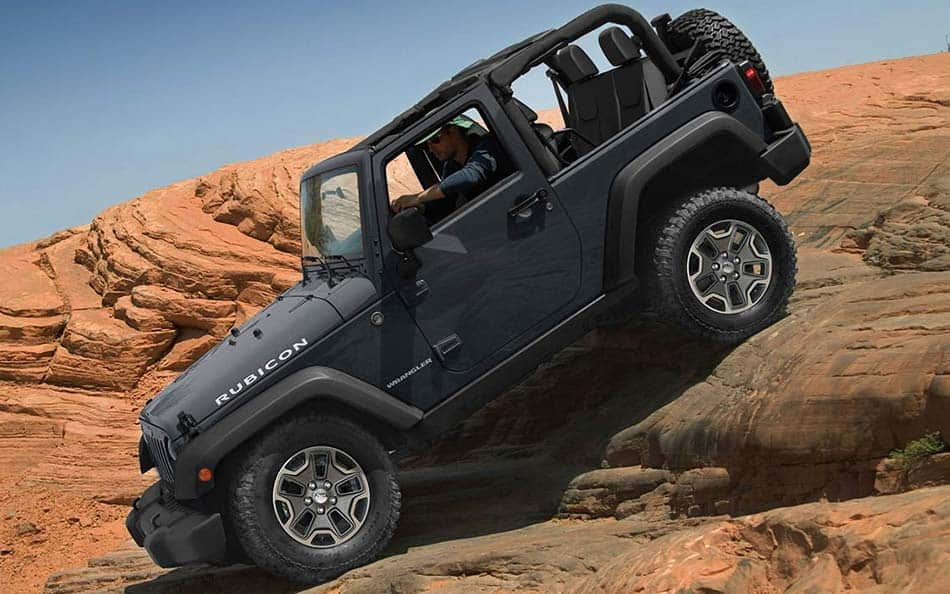 Jeep Wrangler Engine
A 3.8-liter V-6 is the sole drive train for the two-door Wrangler. The Unlimited gets its own 3.8-liter V-6 with slightly more horsepower and torque. Off-road mainstays include a non-independent suspension and a part time four-wheel-drive system with available dual locking differentials. Other features include under body skid plates, an available tow package and an available electronically disconnecting front stabilizer bar for increased ground clearance. The Wrangler Sport uses a standard four-wheel-drive system incorporating a two-speed transfer case for part-time use. Suspensions are built for off-road toughness, with a live axle front and rear layout, including 10.2 inches of ground clearance and the availability of a four-wheel-drive system with heavy-duty axles, locking differentials, Rock-Trac transfer case with the sway-bar disconnect, extra-low gearing, and knobby BF Goodrich tires on Rubicon versions. For those who shop by the numbers, the critical ones for the Wrangler are 44.3 degrees approach, 25.4 degrees breakover, and 40.4 degrees departure-that's all for the top-of-the-line, off-road-pedigreed Rubicon. Among useful quirks, like only a handful of off-road-focused vehicles today you can start the Wrangler in gear, with your left foot off the clutch (provided you have 4-Low engaged).
Schedule Service for Your Jeep
Find Jeep Parts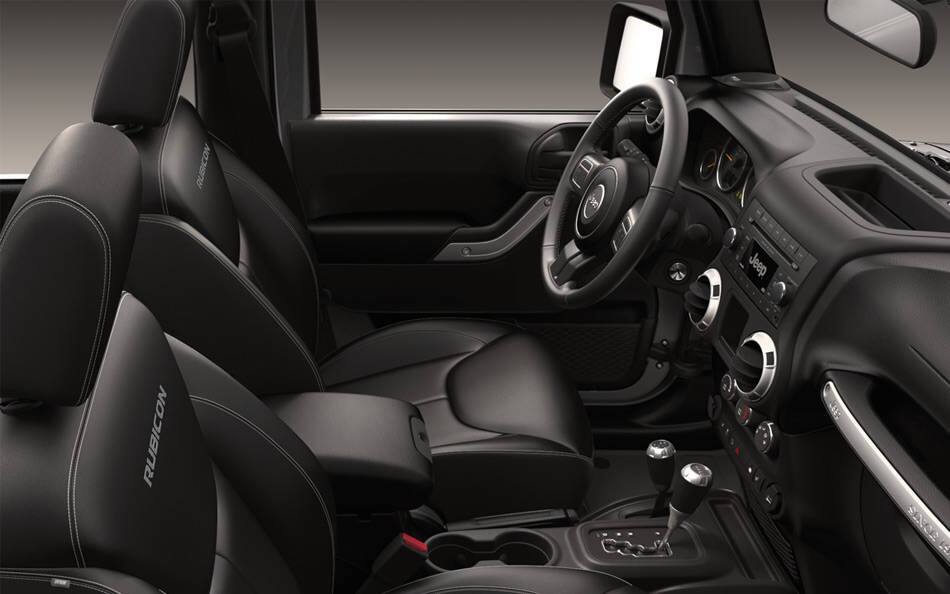 Wrangler Interior
An available three-panel hardtop has removable sections above the driver, front passenger and rear passengers. The standard soft-top has been redesigned for 2010 and now can be removed more easily, according to the automaker. The side doors, available as full or half-size, are removable, and the windshield can be folded down. The thin-spoke steering wheel has a circular hub, and a vertical center control panel features a high-mounted radio with circular air vents underneath. The Wrangler and Wrangler Unlimited feature a floor-length console with front and rear cup holders, plus locking storage.
Inquire About Jeep Financing
What are the basic decisions I need to make when buying a Wrangler?
One of the different models of Wranglers, such as the Wrangler SE, Wrangler X, Sport, Sahara, Rubicon, or Unlimited. These are sometimes known as "trim levels" in dealer-speak. The major difference is that the SE come with a four-cylinder engine, while the others have a six-cylinder engine.
Getting a manual or automatic transmission
Hard top or soft top
Dana 44/Trac-Loc axle package, or anti-lock brakes
Other options and packages 

Should I get a hard top or a soft top Jeep Wrangler?
A soft top won't be easy in the winter time, since it can be fairly cold and since it's difficult to clean ice and snow off the soft windows effectively. However, there aren't too many problems with ice, and the heater does a very good job. With a hard top, you either have to leave it on all the time or get a winch/pulley system to remove it for the sunny days. 

Why Should I buy a Jeep Wrangler?
Jeeps are fun vehicles with a great following. Jeep people tend to be friendly and helpful to other Jeepers. Also they are a tough vehicle that has many uses both on and off road. They can take abuse and are generally reliable if properly maintained.

My Jeep Wrangler won't restart when it's hot.
If it is regular operating temp (210 degrees), it could be a defective coil, which depends on the year as well. Also certain sensors could break contact when they get hot. 

My Jeep Wrangler's speakers are not working.
This is one of three things…

A bad speaker
A speaker is unplugged
The radio is out of adjustment.
Conclusions
The Wrangler has a standard electronic stability system with Chrysler's rollover mitigation technology, which can pulse individual brakes in an attempt to prevent impending rollovers. Side-impact airbags are optional for the front seats. Side curtain airbags aren't offered. The Wrangler's V6 engine has enough grunt to make it seem reasonably quick around town, though the brick-like aerodynamics hamper higher-speed acceleration. Alas, on-road driving is also hampered by excessive noise levels, slow and vague steering and an unusual mix of both an unrefined ride quality and a lot of body roll and low grip when driving through turns. But these weaknesses turn into strengths when you get off the pavement, so it's all about your personal priorities. Like we said, just make sure you know what you're getting into before you sign up for the Wrangler experience. Give us a call today if you would like more information on the Jeep Wrangler!
For more info visit the Jeep Site